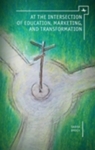 At the Intersection of Education, Marketing, and Transformation
Access is restricted to Touro College & University System-affiliated users only. Create an account by using the "My Account" link above with your Touro-affiliated email address to view this book.
Description
There have been significant changes in the last decade in the fields of education and marketing. Both have been transformed by technology and globalization. Attention spans have been shortened due to accelerated delivery of entertainment. A new global cyber culture has emerged. Social networking sites have changed the way we get information. The web and mobile apps have emerged as major players in both education and marketing. Prominent educator Dr. Sabra Brock has examined the foundations of these transformations and written about emerging trends in marketing and post-secondary education. This book is a collection of pieces she has authored and co-authored. These articles may provide insights for educators and educational administrators, as well as business practitioners, especially marketers.
This paper has been withdrawn.