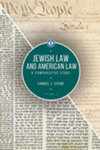 Jewish Law and American Law: A Comparative Study, Volume 2
Access is restricted to Touro College & University System-affiliated users only. Create an account by using the "My Account" link above with your Touro-affiliated email address to view this book.
Description
These volumes contribute to the growing field of comparative Jewish and American law, presenting twenty-six essays characterized by a number of distinct features. The essays will appeal to legal scholars and, at the same time, will be accessible and of interest to a more general audience of intellectually curious readers. These contributions are faithful to Jewish law on its own terms, while applying comparative methods to offer fresh perspectives on complex issues in the Jewish legal system. Through careful comparative analysis, the essays also turn to Jewish law to provide insights into substantive and conceptual areas of the American legal system, particularly areas of American law that are complex, controversial, and unsettled.
This paper has been withdrawn.