Journal Home
"The NYMC Journal publishes stories that affect the lives of medical students as written by the students themselves. We provide the NYMC community with educated views on the contemporary controversies, news, and people in medicine. Our goal is to provide medical students with a platform to express their stances on issues and experiences in medicine."
-Q&S Mission Statement
Current Issue: (2022)
Metamorphosis
Dear Readers,
It's easy to identify change over time. We can look at our world from two years ago and look at the world from today and see clearly that they are not the same place. But understanding change as it's happening is much more difficult and the moments that make us different people from one instant to the next are fewer and farther between. Yet in many ways, medical education deals in both forms of change: we subject ourselves to experiences designed to both subtly shift over four years and drastically change from one moment to the next who we are, how we view the world, and how we react to our surroundings. We then graduate and embark on careers designed to be dynamic, and therefore, metamorphic. We are never supposed to stop changing or to stop reflecting on our own change. This issue of quill & scope attempts to exist both in the before and after and in the space of contemporaneous change. We invite you to think back on how you have transformed and how you are transforming right now, the experiences and individuals seminal to your evolution, and the ways in which you are inspired to change in the future. In all our emphasis on change, don't forget to cherish what stays the same - the parts of you that bring you joy and contentment in all different seasons of life - they are sacred. We would like to extend a warm thank you to our authors, artists, editors, designers, faculty advisors and contributors for transforming metamorphosis from an abstract idea to something real. And to our NYMC community: thank you for being a part of our collective metamorphosis.
Interview
Perspectives
Review
Poetry and Creative Writing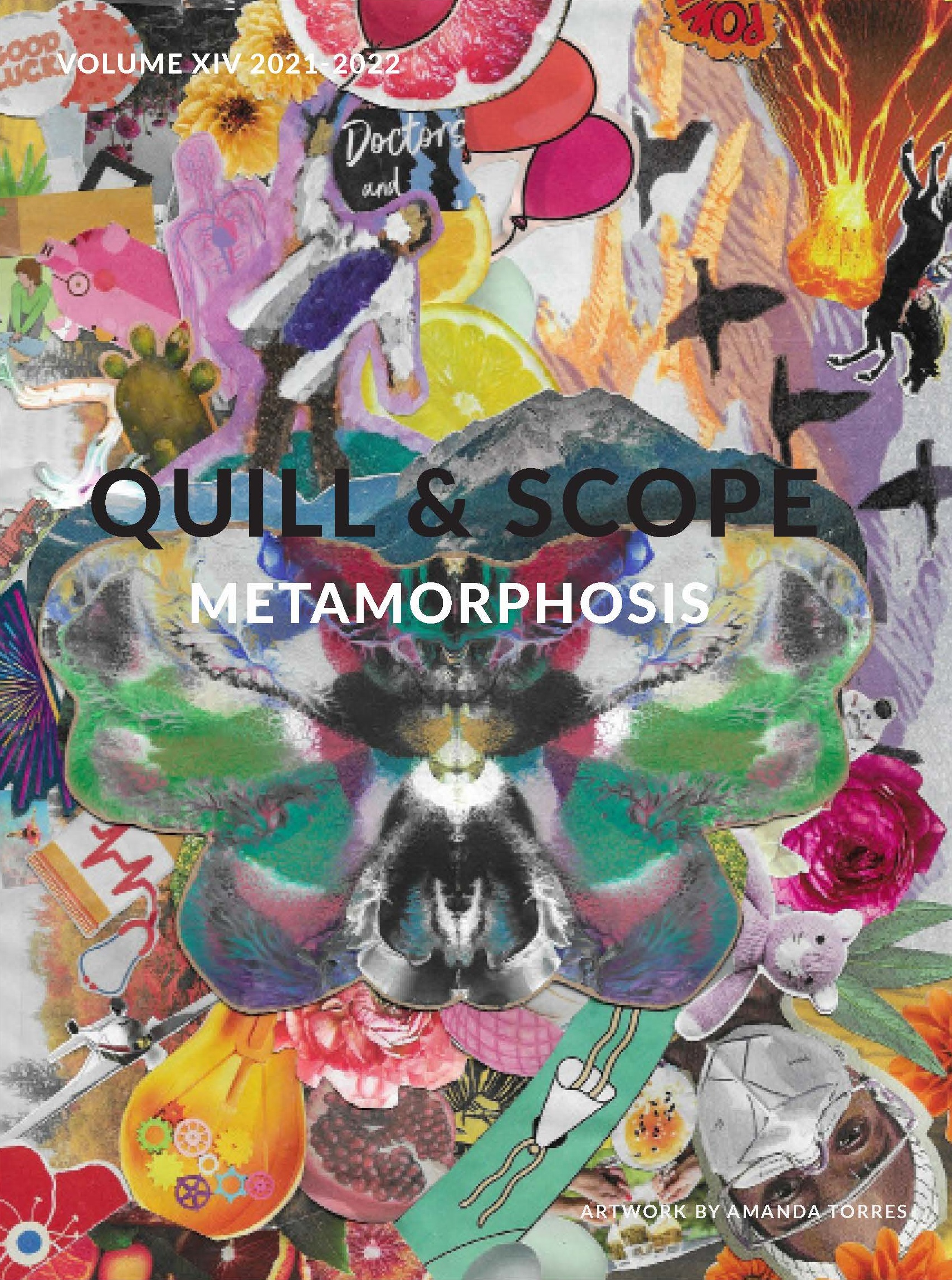 2021-2022 Editors-in-Chief
Gillian Hecht
Brinda Raval
2021-2022 Managing Editors
Maya Pandit
Sima Vazquez
Rachel Mund
2021-2022 Art Director
Isidora Monteparo
2021-2022 Art Editors
Jaehyun Patrick Kim
Sabrina Martinez
2021-2022 Literary Editors
Sania Azhar
Caroline J. Bredthaur
Kira Rynhold
Ariel Sasson
Aaron Rips
Josh Simmons
2021-2022 Layout Editors
Marisella Garcia
Gihad Abdelhaddy