(2010)
Volume III
Editor's Introduction
The year 2010 marks New York Medical College's 150th anniversary. In honor of such a historical milestone, Quill & Scope dedicates this third volume to the faculty and alumni who tirelessly helped shape the College into the premier academic medical institution it is today.
Interview
Perspectives
Research Articles
Poetry and Creative Writing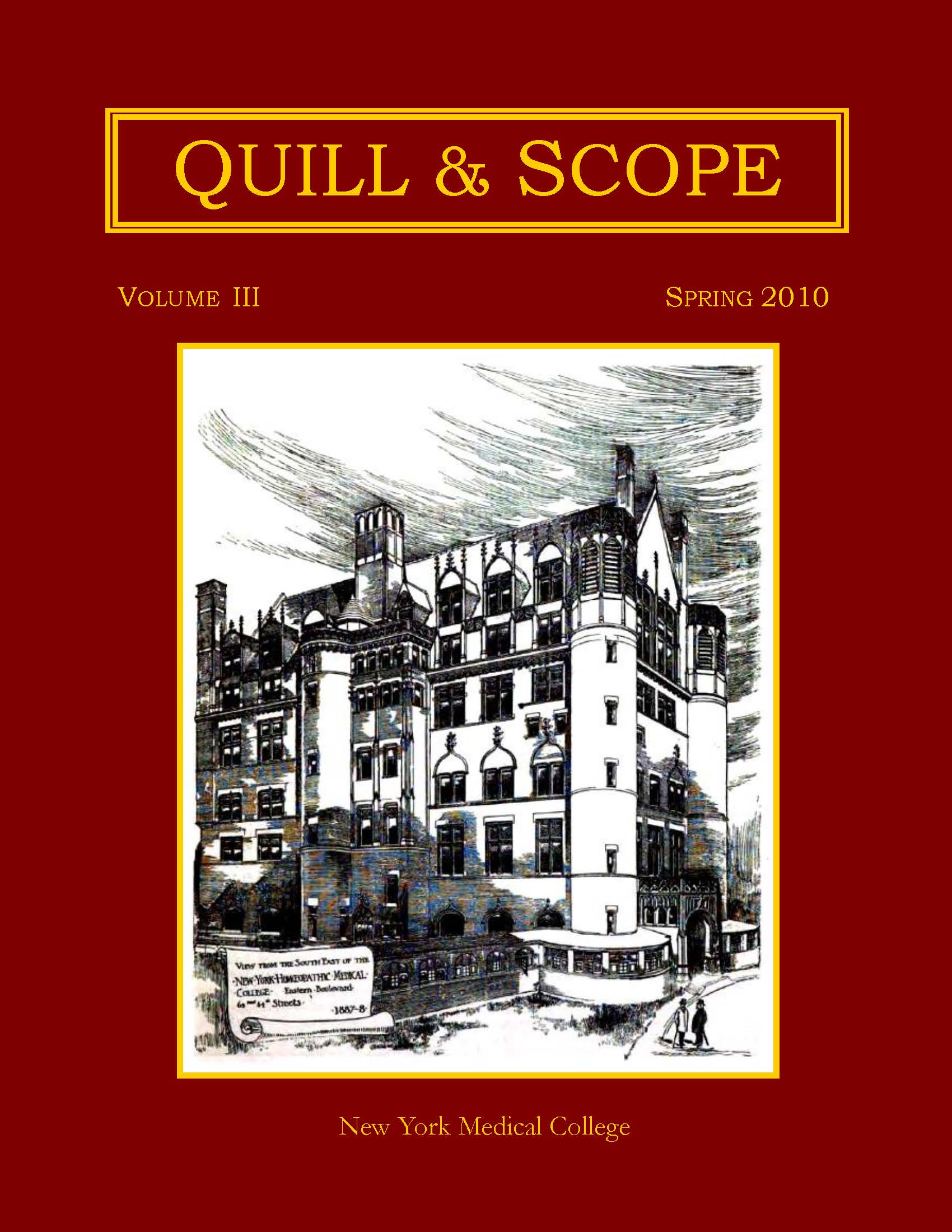 Editors in Chief
Managing Editors
Linda DeMello
Navid Shams
Gavin Stern
Senior Graphic Designers
Annabelle Teng
Dennis Toy
Senior Webmaster
Michael Smith
Web Communications
Kevin Cummings
Executive Faculty Advisor
Gladys Ayala,M.D.
Editorial Board
Gladys Ayala,M.D.
Diana Cunningham,M.L.S.
Kenneth Lerea,Ph.D.
Stephen Moshman,M.D.
Padmini Murthy,M.D.
Sansar Sharma,Ph.D.
Noorjahan Ali
Debasree Banerjee
Christine Capone
Edward Hurley
Sean Kivlehan
Jenny Lam
James Naples
Annabelle Teng
Dennis Toy
Staff Editors
Loren Francis
Janet Nguyen
Rajdeep Pooni
Aditya Sarvaria
Alex Trzebucki
Stuart Mackenzie
Yin Tong
Michael Weinreich
Alanna Chait
Marissa Friedman
Danielle Masor
Chris Ours
Sarah Pozniak
Humera Ahmed
Jonathan Drake
Art Editors
Web Design
Calley Levine